Linear garage door operators are versitile openers packed with standard features, perfect for almost any residential application. With interchangeable head units, rails, and horsepower versions, any way you configure a Linear system adds up to more value. They feature exclusive design elements including super quiet motors, high strength rolled steel T-rails and secure radio controls. Rigorous manufacturer testing ensures ultimate performance and durability.
DC-Powered Opener (Belt or Chain)
The Linear LDCO800 is powered by a DC motor with equivalent power and speed of Linear's 3/4 HP AC motor. It's soft-start and soft-stop features accompany the DC motor to make it one of, if not the quietest door opener in today's market. Equipped with the optional battery backup unit, the LDCO800 will deliver peace of mind during power outages.
Superior, Eco-Friendly Design
Smooth and Quiet Operation
Interchangeable Belt or Chain Drive
Supplies 800 Newtons of Lifting Power for Heavy Doors
7′, 8′, and 10′ T or I-Rails
Secure, Long-Range Remote
Self-Diagnostic System Continually Checks for
Proper Operation
Added Peace of Mind for Power Outages
Fully Self-Contained Battery Backup Unit (BBU) option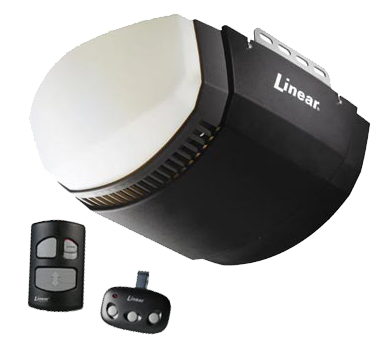 Linear Operator Standard Features
Eco-Friendly
Efficient design results in ongoing energy savings. Ultra-low standby power mode reduces electricity usage.
Ultra-Smooth and Quiet Operation
Variable speed operation delivers ultra-smooth, quiet performance, increasing long-term reliability.
Belt Drive or Chain Drive
Choose from our exceptionally quiet belt drive or our solid-performing chain drive.
Safety First, Safety Always
If the obstacle-sensing beam is crossed when the door is closing, the door reverses to fully open.
Park or Reverse Door
To permit both ventilation and access, the garage door can be stopped and parked during either upward or downward travel.
Secure, Responsive Remote Control
Linear remote controls operate over a long range and employ high-security technology.
Deluxe Wall Station
All controls are large, clearly marked and illuminated (door UP/DOWN control, courtesy light switch, and vacation mode).
Automatic Courtesy Light
A built-in 100W MAX light illuminates the garage for five minutes every time the operator is used (Except when operating on battery backup).
Easy Door Release
When you need to open or close the garage door manually, simply release the operator's quick-disconnect trolley.
Assurance Through Self Checks
The operator's self-diagnostic system continually checks to see whether everything is working properly. In the unlikely event of a problem, it will pinpoint the trouble and let you know by flashing the courtesy light. You can often solve the problem on the spot with a call to your Linear dealer.